September 24, 2015
 
If you saw my Facebook posts at all, you would see that I have been on vacation exploring the wonderful countries of China and Cambodia. What an adventure my husband, another couple, and I had. I had been to China before nine years ago, but nothing seemed the same. The biggest change was everyone either had a car of a scooter/motorcycle. Very few people still rode bikes.
(Read to the bottom if you want to see my views on traveling with a group vs. alone.) 
 I learned something about the Chinese people. Before I used to think they were pushy and crazy drivers. But I have realized they are incredible drivers… they just do it on their own terms. They don't follow the same rules of the road that we do, but it seems to work. It's sort of indicative to the way they walk on the street, get into the subway, and move around the sidewalks… every man for himself. It's not a criticism, just an observation.
We saw the Great Wall, the Olympic Village, Temples, the Summer Palace, and street after street of real Chinese people. We weren't on a tour. We were just four individuals in a country that has limited English skills. One very unique incident was on September 3rd, and was called the celebration "The War of Resistance". It was the 70th year celebration of the end of World War II against Japan. The subways were closed, the street where we were staying was roped off and after we watched the whole ceremony on TV, we saw tanks roll down our street.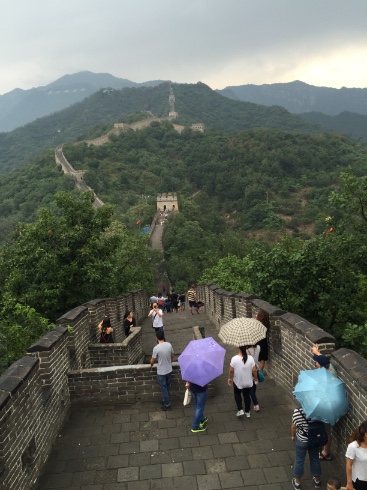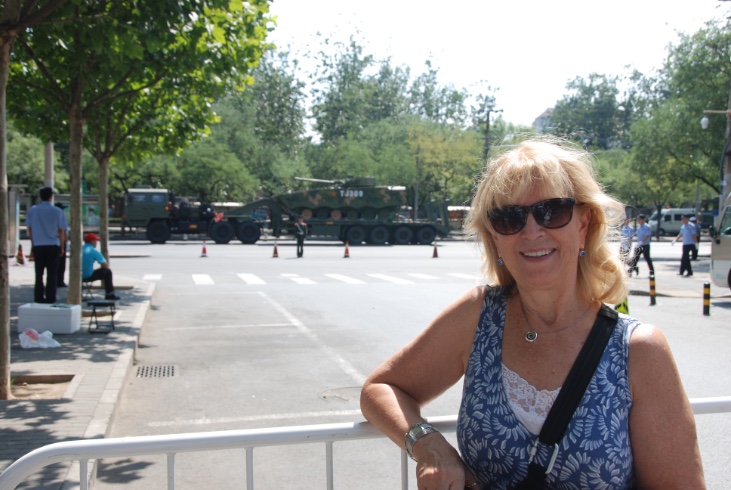 After Beijing we took the fast train to Xi'an to see the Terracotta Soldiers.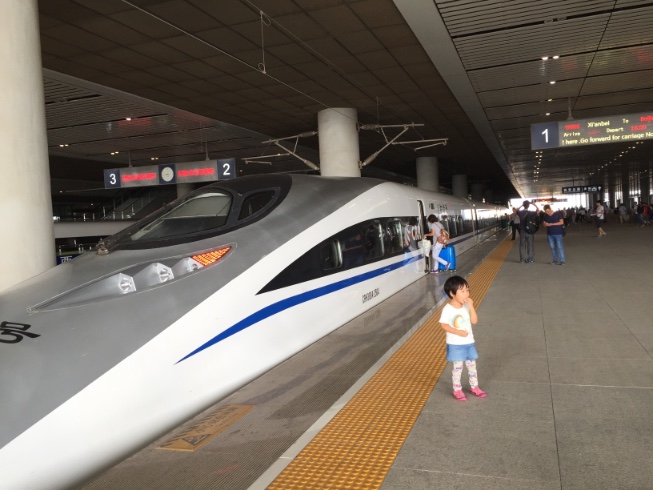 The Terracotta Soldiers is something I had seen before, and it about the only thing in China that did look familiar. They are really incredible! But something that I missed on this visit was the wonderful insight from having a great tour guide. We had someone with us, but I don't feel we got the same information that I received on my first visit.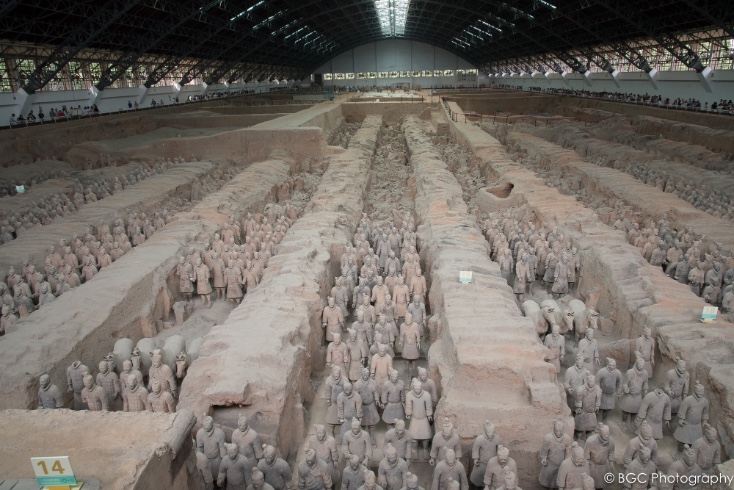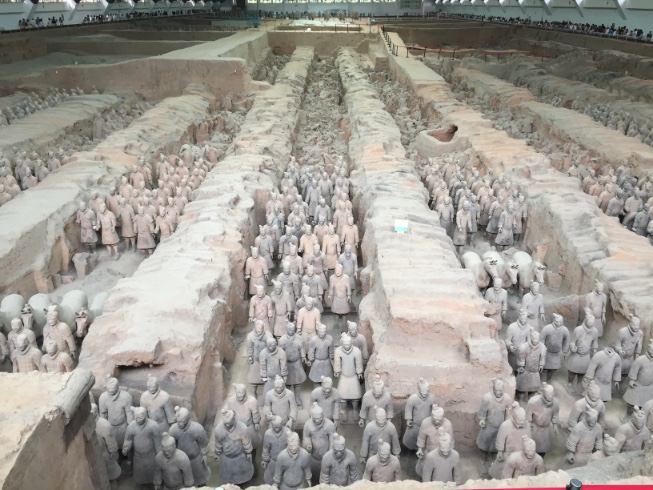 Back on the train, back to Beijing, where we spent one more night.

The next day we were off to Siem Reap, Cambodia. Phew… I thought I had died and had gone to heaven. The room was the nicest room I had ever stayed in.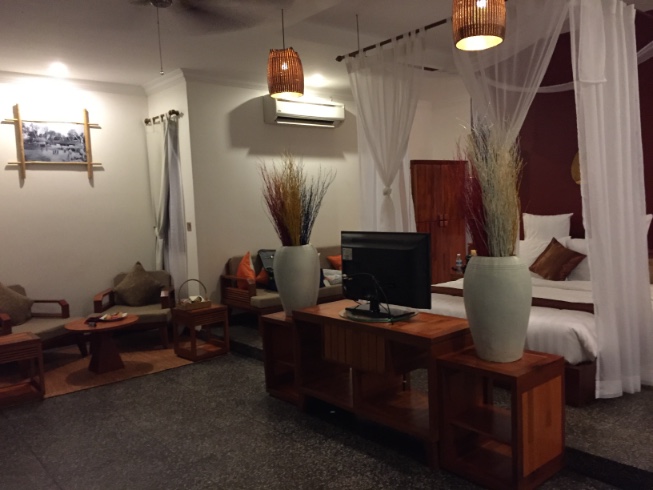 The infinity pool was so refreshing after a long day of walking in the heat and humidity.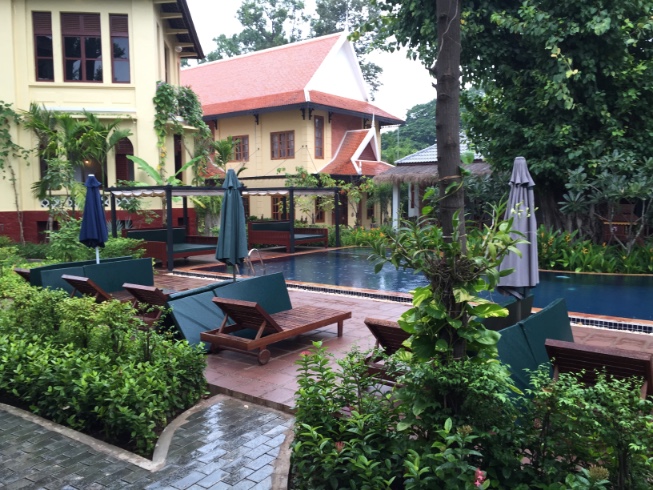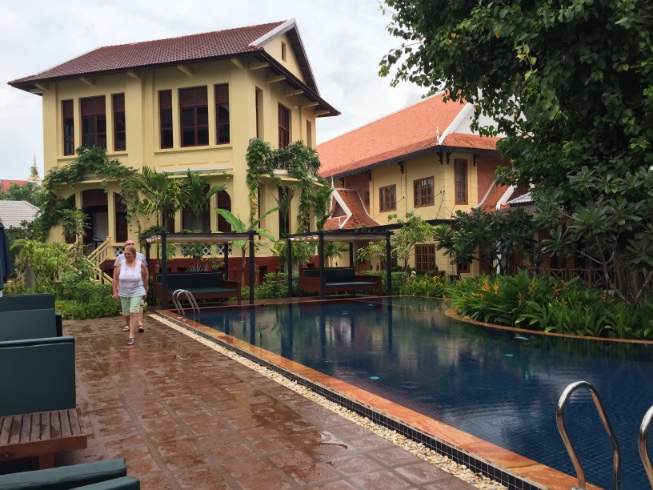 We saw the most famous temple, Angkor Wat and several of the other temples around the area.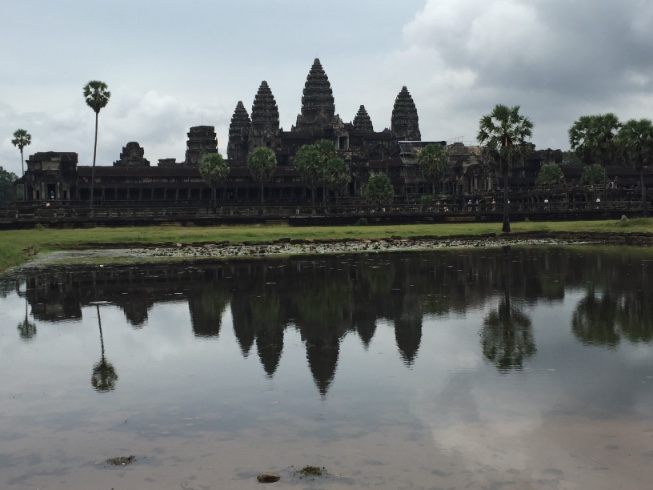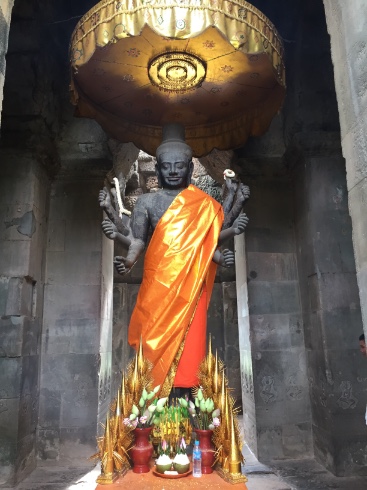 We saw a whole village that floated.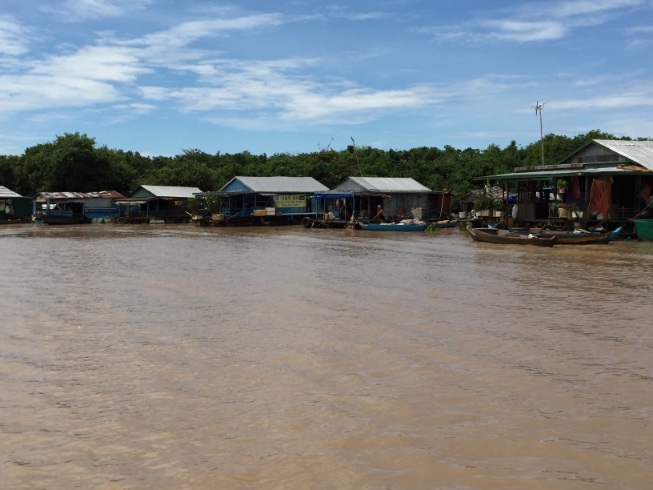 And another one built on stilts because of the rise and fall of the lake they lived near.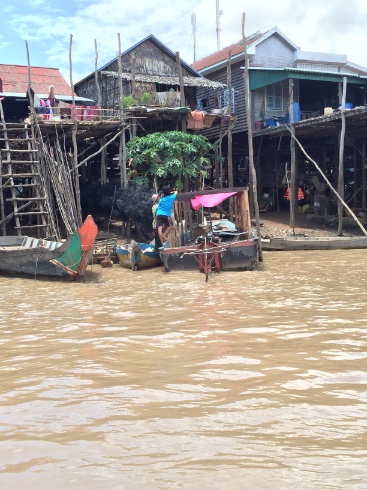 And of course interesting things at local open-air markets.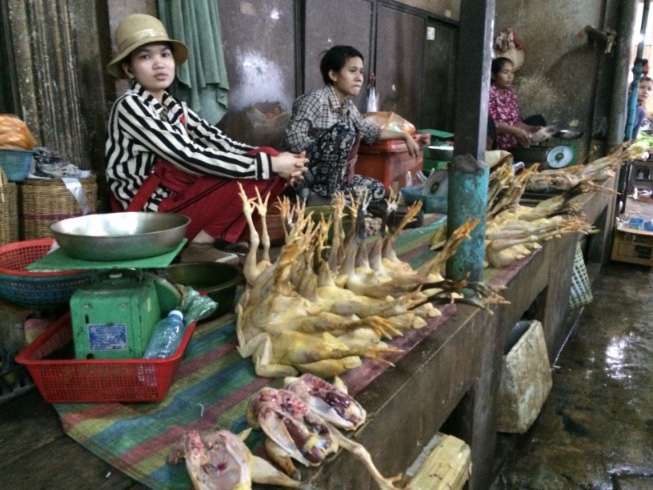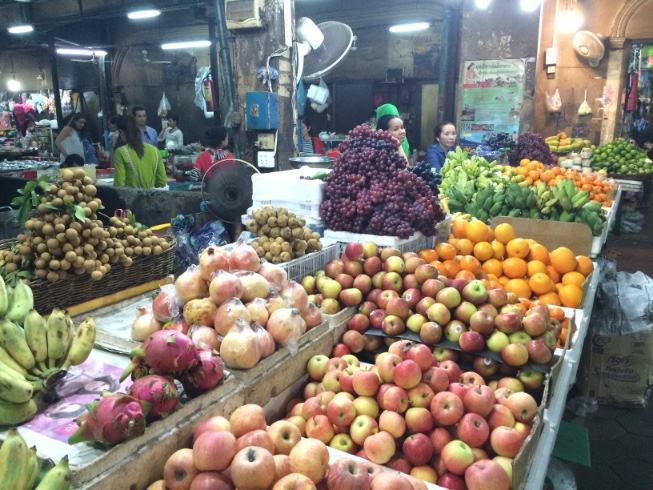 But most of the time was spent enjoying the culture, the fun outdoor markets, the restaurants, and the people. They are the nicest, gentlest people. Do you believe a foot and shoulder massage was $3.00 for 30 MINUTES?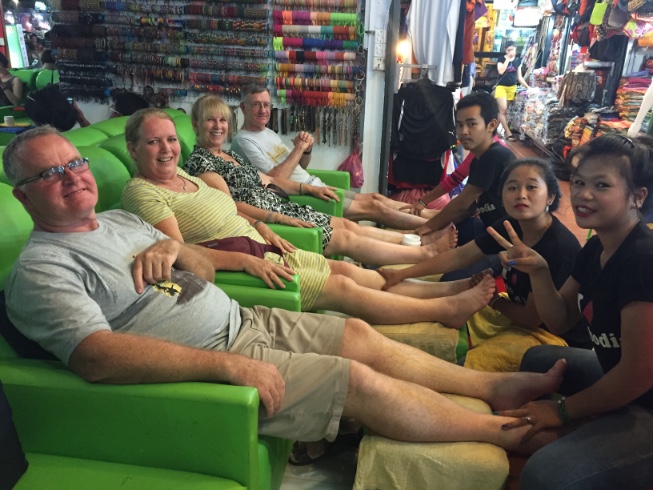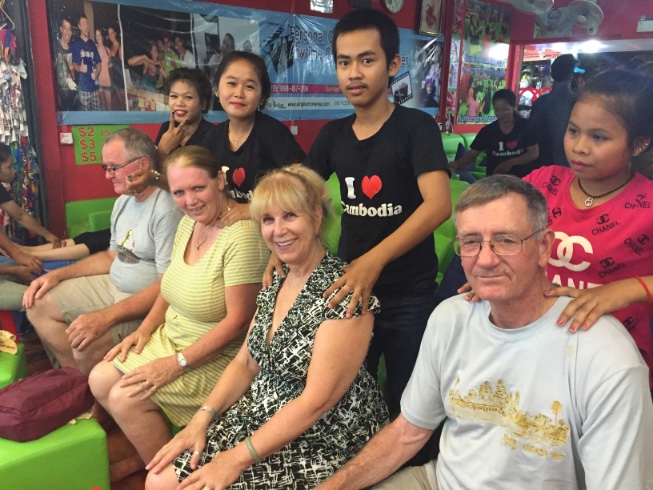 These were our servers for breakfast. The nicest people. Soft spoken, gentle, and wanting to please.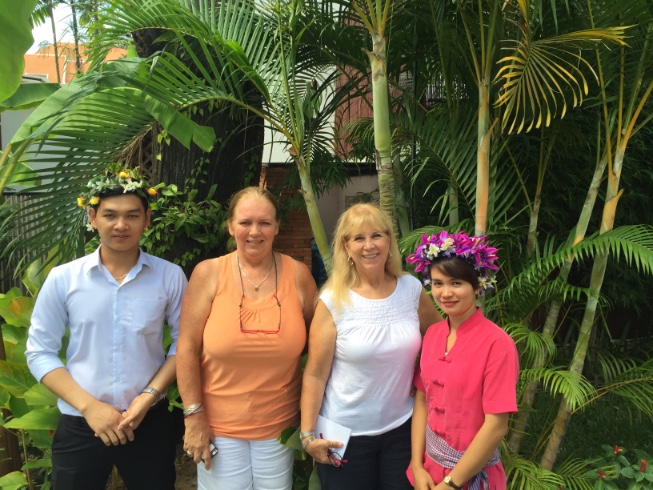 OK, here it is. I have traveled out of the country with three tours and traveled alone four times. There are pluses and minues with both.
1. On a tour you have someone who has been there before, knows where he is going, has almost everything planned, can tell you what to do on your free time, buys train, subway, or museum tickets for you, etc. You also have the commadarie of other people to talk to or do things with along the way. The downside is that someone is telling you what to do, when to do it, and how long you can do it for. Sometimes you just want to be alone or do your own thing.
2. When you go by yourself (or with friends) you get the freedom to do everything you want to do, when you want to do it, and for how long. You get to go to places that aren't necessarily on the beaten path or where all the tourists go. You get to eat at restaurants not geared to handle busloads of people, and the experience is uniquely yours. The downside is, it is A LOT OF WORK for you. Sometimes you might spend a lot of time trying to find a place, or you can't figure out how to buy tickets for something. It can be exhausting. Plus you are stuck with who you travel with and if there is something you want to do and they don't, you don't have that extended pool of people to choose from.

All in all, any way you travel, you need to do it. If you have never traveled out of the country, I would suggest you travel with a group first. 

If you are interested in going to Eastern Europe, I am leading a group of adults in September 2016, for 15 days. It's a great trip with an awesome price. I'd love for you to join me. Email me for more information. I would love to tell you all about it.
betsygc@me.com